GoldenPhoenix:
Well everyone, Anime North 2008 is fast approaching! I've been working on an oiran cosplay I could wear there for a while and I thought I'd show you all how it's coming along. It's not really meant to be entirely authentic, but sort of playing with the oiran look. I really wanted to do something entirely with a dragon theme, so here it is!
First, here is the kimono I'll be wearing. I'm sure many of you have seen it on here before:
http://kurokami-kanzashi.deviantart.com ... a-83127991
Next we have the kanzashi!
http://kurokami-kanzashi.deviantart.com ... t-85099360
I put the kanzashi together over the last week or so. The bridge piece is designed to look like a dragon's face while the two side pieces with tassels were meant to look like dragon paws clutching fireballs. Originally I had planned to make the dragon face look ferocious but as I worked on it, it got cuter and cuter and now it's far from ferocious. LOL!
Anyways, this set has a total of 19 pieces in it. There are two decorative ribbons, six hair forks, six hair sticks, two side pieces (the paws), two bridge pieces (the dragon's face, and the one with silver flutters on the back), and one more piece decorating the bottom of the mage.
Every tsumami petal (aside from the white ones) are double layered. So there was more than 1000 square inches of fabric used in this set; for a total of 777 individual petals ranging in size from 1 - 3 inches square.
And here's a photo of how the kimono and kanzashi look together: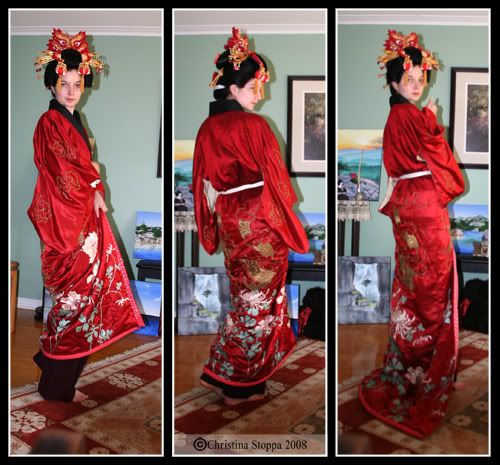 http://kurokami-kanzashi.deviantart.com ... m-85101369
This was my first time putting on my Ichiyo Gaeshi katsura. The good thing is that it fits over my hair better than my Takashimada katsura. Unfortunately, I wore the thing for less than an hour and I could already feel it giving me a headache from being too tight. Looks like I'll have to carry some advil around with me at Anime North...
A while ago I'd also made an uchikake for this coplay, but I've decided to forgo wearing it because I really like this kimono and want to show it off. Plus the uchikake isn't dragon themed. Originally I had planned to make a dragon themed uchikake, but the horribly old dusty fabric I was going to use gave me bronchitis when I tried to unpick it from the form of drapery... Anyways, this is the uchikake I would have made if I hadn't gotten sick:
http://kurokami-kanzashi.deviantart.com ... e-84479319
This would have been done with something similar to kinkoma embroidery, only involving gold ribbons instead of gold strings. Also, I think the green of the fabric is different from what I've got in that drawing. It's more olive coloured, so it wouldn't look as Christmasy next to the red kimono. And the uchikake would be velvet!!! :D
Anyways, this is the obi I want to wear with the cosplay: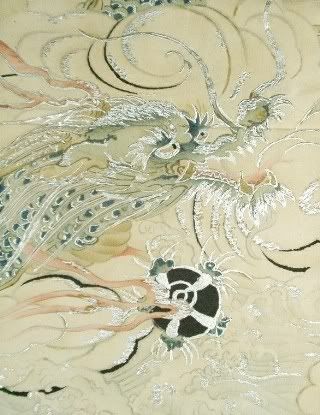 http://kurokami-kanzashi.deviantart.com ... i-85097264
I just ordered it from Ichiroya recently, so I've got my finger's crossed that it will arrive on time. Otherwise I'll have to wear one of my other dragon obi.
Anyways, I'll try to get some nice photos of the finished costume at the convention with my makeup and everything all done too!