Maiko-san:
I am making a list of games played at an Ozashiki! Please help me add on to the list! And please let me know if you can explain it any better or know the names!
Konpira Funefune
The players take turns to take away the "tokkuri no hakama" bowl. If the bowl is not there, you show a fist. If it is there, you keep your hand flat.
This game is called Konpira Funefune, and while being played the following song is sung:
Konpira funefune oite ni hokakete
syura syusyu syu
mawareba sikokuha sansyu
naka no gouri zouzusan
Konpira Daigongen
ichido mawareba
Konpira funefune oiteni hokakete
syura syusyu syu
???
The geiko/maiko is "Hatsu" and the other player is "Katsugoro." "Hatsu" drags "Katsugoro"
around with a long peice of cloth. When no one is looking, they "make love."
[Broken links removed]
???
Players take turns pouring sake into a small cup. Whoever makes the sake spill
must take their penalty and drink the sake. This game keeps going on.
http://youtube.com/watch?v=0WKBGH68vYY& ... ed&search=
http://youtube.com/watch?v=xUoQz54ats4& ... ed&search=
"Tora-Tora"
Two players are on either side of a screen.  On the count of three they both come out
from behind the screen posing as either the Samurai, Tiger, or Old Woman. The Samurai
beats the Tiger. The Tiger beats the Old Woman. The Old woman beats the Samurai.
"Tosenkyo"
The picture shows guests entertained by "Tosenkyo", a game played at Enseki (banquet) by throwing an opened "Sen-su" (Japanese tradition fan) at the target placed at a distance. The player sits on his/her knees, is throwing an opened fan at the target placed on the box set at a given distance from the player position.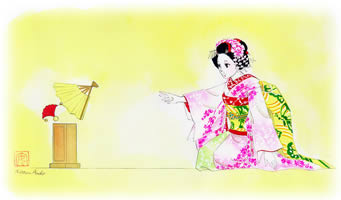 Scorecard:
http://www5f.biglobe.ne.jp/~kei-nd/yugiri/meitei.html
?Musical Chairs?
Played the same was as western Musical Chairs but instead of chairs you would use Zabuton.