NAME: Iyolin
The Asian Mystique: Dragon Ladies, Geisha Girls & Our Fantasies of the Exotic Orient
by Sheridan Prasso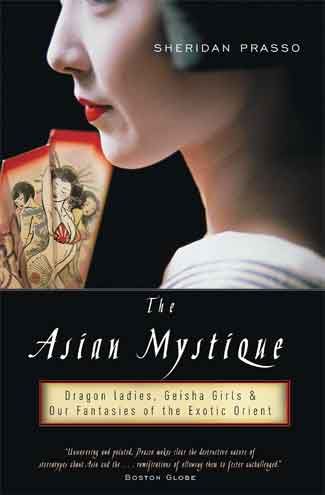 # ISBN-10: 1586483943
# ISBN-13: 9781586483944
Amazon.com link
If you can, buy it on sale. Or borrow it from the library, because it's probably not a book you'd want to keep on your shelf.
The reviews on amazon.com are fairly enlightening, and discuss the merits or lack thereof of the book, so I will give my impressions of the book and what someone who is mostly interesting in Japanese culture got from it.
Thoughts:
The author is a white female who has spent many year working in Asia (though not Japan; at least not before she wrote the book). She did not approach this book as looking at just the image of the geisha, though I knew it would be more about women in general before reading it and not just the flower and willow world.
The book is one-sided; it explores the Asian mystique, which I was hoping to mean the allure of Asia in general, and why we have those impressions of the women, but it sort of degenerated into "why white men find Asian women hot" and "Asian women are women too". The author talked mostly to men who visited bars that "sell sex", or women who worked at such places. She talked to a few couples who made things work, but didn't get much beyond that. There were no interviews with women who are attracted to Asia and the culture.
The first part of the book is a look at the history of why the Western world might have the impression of Asians that we do, based mostly off articles, movies, and Hollywood. I found this part to be much more interesting than the latter half of the book, but even then it gets a little repetitive. Very little of the book focuses on the impression of men, aside from a small section which explains why Asians in America have mostly laundromats and restaurants.
The latter half of the book is stories of women who work at sex clubs, dancers, geisha, communist party women, students, and some housewives (to name a few). It reads very much like Butterflies of the Night, which was written by a non-Japanese hostess in Japan and gives a good look at that side of things.
As the interviews with the geisha will be the most relevant to the forum, that's what I'm going to focus on.
Pertinent chapter: The Real Memoirs of a Geisha p 200 - 222
Prasso tells of her interview with Iwasaki Mineko and two geisha in Tokyo.
"All foreigners misunderstand the geisha world..even those (and especially those) who study it and believe they have come away with an understanding of it after only a short time" [to Prasso, via Iwasaki's intermediary at the Japan Society]. She [Iwasaki] also claims that Dalby and Downer came in with preconceived notions and only set out to prove those, and that their investigations were not deep or thorough enough.
Prasso tells of how she convinced Iwasaki to talk to her; she said that "if foreigners always misunderstand, then I wanted her to help me understand", and "if there were mistakes in what had been written by others, the I wanted her to help me correct them".
The biggest sticking point with Iwasaki seems to be that of mizuage (what a surprise), and how the idea has tainted the impression of geisha to foreigners (IMHO, namely her own reputation).
Does Prasso manage to correct others? I don't think so, for the information is hidden in the middle of a book, and beyond mentioning that the issue Iwasaki has is that of mizuage (as all three other authors mention that it happened), she doesn't examine the point further.
She interviews only three geisha - and two are from Tokyo. I feel that she secured the interview with Iwasaki because it would help sell the book, and not necessarily because she had set out to really learn much about the geisha world. There are other geisha in Kyoto, but we don't know why she didn't interview them, and she doesn't explain that aspect of it.
One of the reviews on amazon mentions that Prasso has a self-congratulatory tone, and it's very evident in this chapter. She is asked at one point by Iwasaki if she read her book, and after replying with a few facts about Iwasaki, the conversation is more relaxed. In my mind, is it not good journalism to be informed about your subject before you interview them? Who would expect to interview someone like Iwasaki and NOT read her autobiography? As well, when sharing from a communal dish, Prasso does the polite thing and uses the other end of her chopsticks, to which she received a compliment from Iwasaki along the lines of "where did you ever learn such a thing as foreigner?" Personally, instead of taking that as a sign of approval, I'd probably be insulted that she had such a low opinion of me "as a foreigner". When they part, she receives a hug from Iwasaki and says that the ex-geisha wished that Prasso were her daughter.
The author also includes a paragraph about doing maiko/geisha henshin. She professes that it's uncomfortable and can't wait to get out of the costume, and wonders how the geisha go through that every day. Did she ask them if they liked to wear kimono, and how they feel about it? Or did she ask others how they feel about wearing kimono?
From 218-222 are the comments from her interviews with two Tokyo geisha, Chitose and Yachiyoko, from Asakusa. Not much is learned here; nothing new is presented. These two get only 5 pages for the both of them, and Iwasaki had the rest of the chapter.
That's about it, aside from the conversations with the housewives in a different chapter. As far as I can recall, she did not talk to any hostesses or mama-sans, or try and find old "geesha girls" or "pan pan girls". It may be that as a foreigner, she can't make the connections or build the trust required to secure those interviews.
For a geisha fan, there's not much new information, unless you'd like to learn a bit more about a few women in particular. There's no content on what Westerners think of geisha nowadays (the only comments are about geesha girls), or what currently attracts people to the Asian aesthetic. The focus was basically on Asian women and sex.
For the "too long, don't read version", I would have appreciated it more if:
1. Prasso had interviewed more than one geisha in Kyoto. She did not talk to any maiko. We know there's differences between hanamachi; she could have tried to get a more balanced opinion.
2. Why Iwasaki Mineko, other than her fame? Did the author ask other geisha, and get turned down? Did she not have the time?
3. Please don't be so self-congratulatory with your I interviews because you did what was expected and polite. As a woman who has lived in Asia for many years, I would have expected you to know what you did.
4. Please don't assume that women must hate wearing kimono because you personally couldn't wait to get out of the outfit.
Recommended for:
- those interested in women's points of view
- those interested in women's society
- sociologists in general, Asian women's studies students
- those with an interest in the "sex" trade and how women feel about it
- those with patience
- those who like Iwasaki Mineko
- those who'd like a little more info on why we as a culture have a fascination with Asian (the first half of the book covers this a little bit)
- those who enjoyed Butterflies of the Night
Not Recommended for:
- those looking for more info about geisha or the geisha mystique
- those looking for a more in-depth view at what a geisha thinks - unless you want to read about Iwasaki
- those who want a balanced look at an issue
- those who find talking about sex embarrassing, dirty, or taboo
- those with old-fashioned sensibilities (reasons for the women doing what they do is discussed, the communist party in China is mentioned, couples with radically different ages, etc)
- those who want a look at Asian Mystique in general, not just focused on women
I thought the fan looked odd; I figured it was CG'd in because no geisha would hold a fan with those pictures on it! The old cover has a different fan. The newer cover is cleaner, though, and better than the old one, I feel.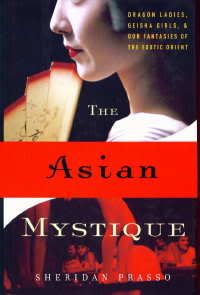 Anyone recognize her?
Generally, my overall impression of the book isn't that favorable, which is unfortunate as I really wanted to like it. If you can get it very cheap (used?) then do so, or else see if you can sign it out from your local library. The only other good thing I got from the book was a list of movies that mentioned/are about geisha, so I can look into those later.
I'd be happy to hear from others who have read this book and what they though.
_________________
Does your signature comply with the rules? Check this thread for details.
To live a
creative
life, we must lose our fear of being wrong. - Joseph Chilton Pearce