NAME: tzippurah
着物Begin (Volume 1)
家庭画報きものサロン共同編集
ISBN: 9784418071418
145 pages
From Amazon
Contents
Interview with Tadanobu Asano
Kimono Before After (shots of actors in street clothes then in kimono)
13 Hot Spots (places to wear kimono)
An article comparing different formality kimono to suit formalities (actually pretty common in men's kitsuke books)
An article on color combinations
An article on accessories
An article on yukata
How to get dressed with clam's mouth musubi or a heko obi bow musubi
10 occasions to wear kimono (comic)
Wearing kimono in USA (a guy on vacation, complete with how to pack your luggage diagram)
Proper kimono ettiquette (an adorable manga in which a guy meets the parents of his girlfriend)
Review
I recently bought a bunch of men's kitsuke books off of YJA, and they are a mixed bag. I let my boyfriend decide which we would review first and he chose this one (His comment: "This one has a dog. I like that."). I think this was a good one to start with as it has a reasonable range of body types and styles. You will see everything from skinny guys in their 20s to chubby 50-year-olds (ages are frequently listed under the model info). A large section of the book shows the models side by side in wafuku and yofuku so you can get a good feel for their individual sense of style. I would definitely buy this again.
The Boyfriend's One Sentence Review
"An excellent book, marred only by excessive hats and scarves."
Scans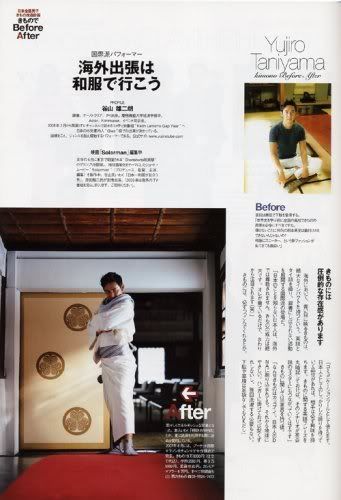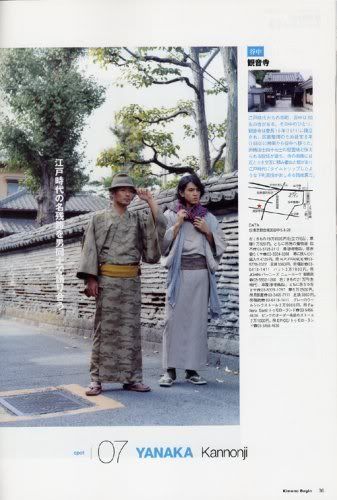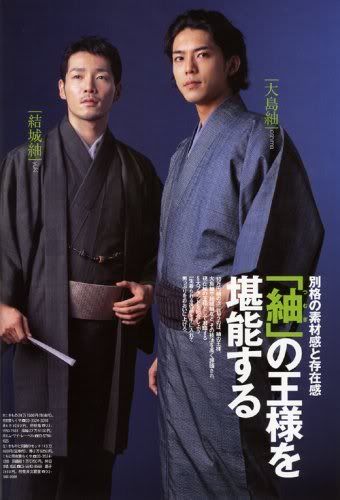 Recommended for:
-Anyone interested in men's kimono color combinations
-Men with different body shapes from model skinny who would like to see how they would look in kimono
Not recommended for:
-People looking for different musubi for kaku obi
-People looking for his-and-hers combos, it's 90% men in every pic