Rivalry: A Geisha's Tale
by Nagai Kafu, and translated by Stephen Snyder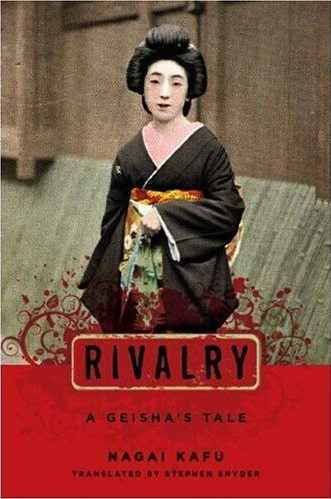 # ISBN-10: 0231141181
# ISBN-13: 978-0231141185
Amazon.com
*The review by Zack Davisson for this book is very good and quite what I'd like to say. I recommend reading his review in addition to this.
If you can, buy it on sale. It's so short, I just don't think it's worth $20.
Note: This version is most likely different (in minor respects) from Geisha In Rivalry (which is the "same" book; both are translations of "Udekurabe"), as they were translated by different people, and supposedly this version contains a bit more information, as is explained in the foreword by the translator.
Thoughts:
I signed this book out of the library. It's a very quick read at less than 200 pages, and doesn't use complex English vocabulary, but will refer to things about the geisha culture (and sometimes the words) about which some might be confused if they didn't know anything at all about geisha, though they should still be able to follow the story. The translator decides to explain the pieces of an outfit (such as using "the cord worn over the obi" instead of obijime) so that more readers would understand, especially if they don't know the parts to a kimono ensemble.
The theme is universal - love and rivalry in love. The people in this are not perfect, and we get descriptions of the 'players' involved, which the characters are not privy to. Sometimes, the people we follow in the story aren't the main focus, but adds to the overall feel of the events and how they are tied together.
There's not much action - it's pretty much all drama. While sex is not explicitly discussed, it does happen, and it's fairly obvious when a sexual encounter has taken place. The lifestyle is not glamorized, and reading it feels very realistic. We get a sense that for these geisha, their life is work, and they're always planning and trying to figure out their futures, and how long they'd have to keep at their profession.
There's a variety of characters, including the geisha, the owners of a geisha house, a kabuki actor, a rascally writer, the son of the owners of the geisha house, and more, which make it interesting. I found myself learning more about the types of people who are involved in the flower and willow world, and not the geisha themselves, which I appreciated.  I also found the rivalry to not be just between the geisha, but among the patrons and other characters as well. Motivations don't run very deep; we're not privy to their innermost thoughts and complex thought processes; in that way, it's basic, pure and needs-driven.
Personally, I felt the ending to be a bit anti-climactic, but still overall enjoyable and an ending that works out for those involved.
One of my favorite things about the book was Nagai's descriptions; I could just picture the outfits as he talked about them, and that was great. For example:
"Her hair was done in a low shimada style with an openwork, silver-covered comb and a jade hairpin. She had changed into a kimono of light crepe with a fine stripe. The effect was quite refined, but perhaps fearing it would be too old for her, she had added a half-collar with elaborate embroidery. Her obi was made of crepe in the old-fashioned Kaga style, lined with black satin, and it was held together with a sash of light blue crepe dyed in a bold pattern. The cord worn over the obi was a deep celadon green decorated in front with a large pearl."
Bear in mind while reading that Nagai Kafu published the story around 1918, and that he was quite involved in the world (he was married to a geisha, and visited many establishments). His involvement is explained in the foreword, which was also well written and informative. Although this book is fiction, based on his involvement and intimacy with the flower and willow world, I'm inclined to believe this comments and descriptions more than those of Golden from Memoirs.
Recommended:
- For those interested in a slightly different look at the flower and willow world.
- For those who enjoy descriptions of wafuku.
- For those looking for a quick read about the flower and willow world.
- For those wanting a look at how their life was around 1920.
Not Recommended:
- For those looking for a detailed description of a geisha's life.
- For those wanting a complex, deeply involving read.
- For those that think geisha never had (obligatory) sex.
- For those wanting a modern book.