NAME: Meru-san
Geisha: A Photographic History 1872-1912
by Stanley B Burns, MD and Elizabeth A. Burns
ISBN 1576873366
:eng
Amazon.com Link
Cover photo: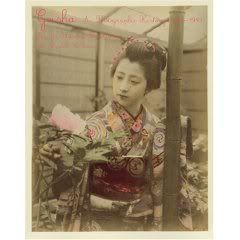 My Review:
This book is a wonderful look at the women of the pleasure quarters during the later half of the 19th century through the beginning of the 20th century. It shows not only geisha, but maiko as well as oiran of that era. It's interesting to see the differences between the outfits the women wore and to compare them to their modern day counterparts.
All of the photos are black and white photographs that have been hand colored. In some, the colors are still vivid and bright but in others it is easy to see that time has not been kind and the colors have faded.
Many of the photos are staged but there are a few 'candid' photos. One of my favorites shows a geisha with a small dog. The dog stands on its' hind legs, seeming to dance for the geisha and she is laughing at the cute antics.
There is a bit of nudity in the book - a few shots of women with breasts exposed. It's mainly to show the variety of photographs that were available to purchase and how pictures like these started a 'soft-core porn' interest in Japanese women.
I actually came across this book in my local library by accident. I hope to add it to my book collection soon.
From the cover flap:
"Japanese geisha and courtesans intrigue and fascinate Westerners. During the mid-nineteenth century, Japan opened its doors to the world and became an essential destination for travelers. Tourists desired images of landscapes and traditional Japanese culture, which Japanese photographers provided. They created souvenir albums consisting of hand-colored photographs individually chosen by the tourist. Many are so beautifully painted that they challenge modern sensibilities familiar with color photography. The photographic conventions were inspired by the aesthetics of the noted colored woodblock print medium of ukiyo-e and the privately published surimono. These works depicted the "floating world"â€â€