Positively Scandalous or Oiran style photo shoot
Posted: Wed Jun 29, 2016 3:09 pm
Strawberry Kimono:
For a few month now,
aoi84
and I were talking about doing a kimono photo shoot with some of her kimono that I've been dying to wear. You know, if I can't own them then I can at least experience wearing them right? This week we were finally able to get together and do a photo shoot!
I picked her up from Eppings and we drove back to my house, where I promptly started applying my makeup. I have to admit that I WAS going for the white(ish) face because I've been dying to give it a try. The day before I looked up oiran makeup and as far as I could tell, there is no difference in the makeup between oiran and geisha. If there is, I don't know about it and can't tell.
So first we did a regular furisode photo shoot, but I will post it in a separate thread so I don't take away from my super scandalous oiran photos! Yup, we sure went there. Semi-naughty kimono photo shoot, but without connecting it to geisha. We were going for a stylized oiran look with the obi tied up front. The rest of stuff are for pure naughtiness, as I don't think oiran ever wore their kimono that way.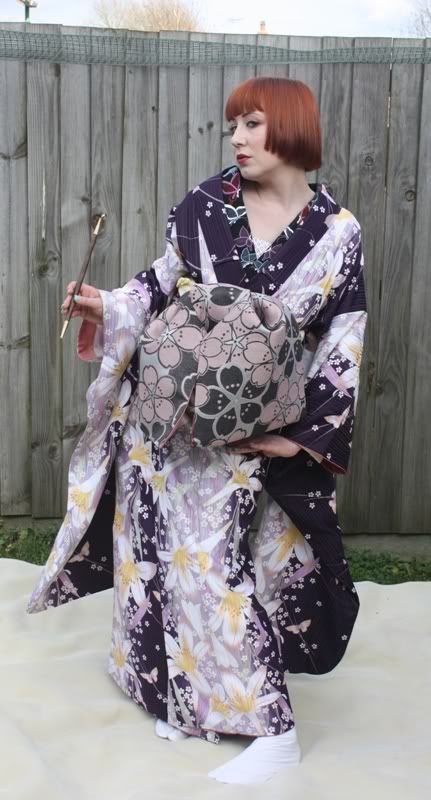 The location left lots to be desired (my backyard) but I still love the photos. I think they turned out very well considering what we had to work with, and who we had to fight for the peace of shooting. I think I (gently) kicked my kitties about 100 times trying to get them out of the photos. Echo even went UNDER the blanket, so we had a kitty underneath scratching at my feet every time I moved lol. :lol: And they kept running into shoots too :evil: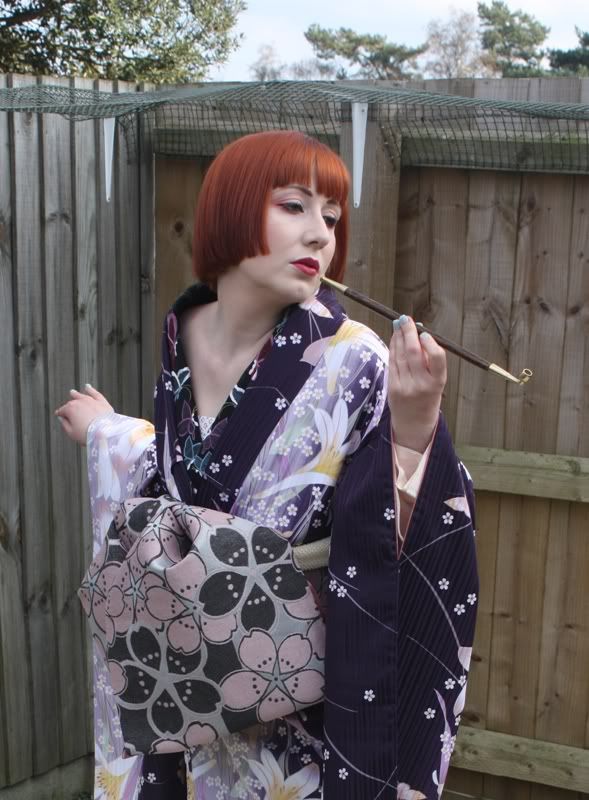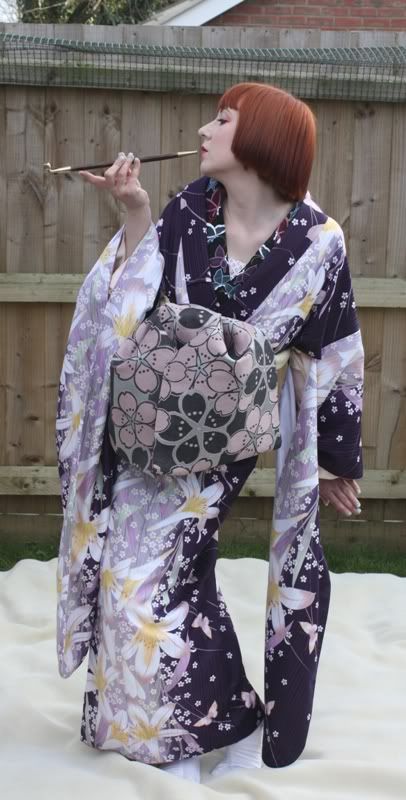 As I said already, I attempted to do a whitish makeup look
but that's failed mostly because I didn't mix in enough white foundation. In the photos, my face doesn't look that much whiter than the rest of my body (oh how I love UK). I put a little bit of pink around my eyes though, but not enough for it to be in-your-face pink.
In the process of dressing, we learned something that I never really knew or thought about. If you want to go for off-the-shoulder kimono look, you better make sure your haneri is long enough! The reason I'm not showing more shoulder is because we "ran out" of haneri so for the next time, we'll have a custom made haneri just for this purpose :)
Furisode, uchikake and obi are
aoi's
, although at the end of the day she traded me the obi for some stuff. So now it's mine!
I am also wearing a juban, but it's a regular juban and not furisode, I decided against trying to unearth my only furisode juban and just use the one I had available. (sure enough, when I did do it later for the GREAT Kimono Stuff Purge, it was on the very bottom lol.) In order to hide the juban sleeves, we just wrapped them around and clipped them with a clip.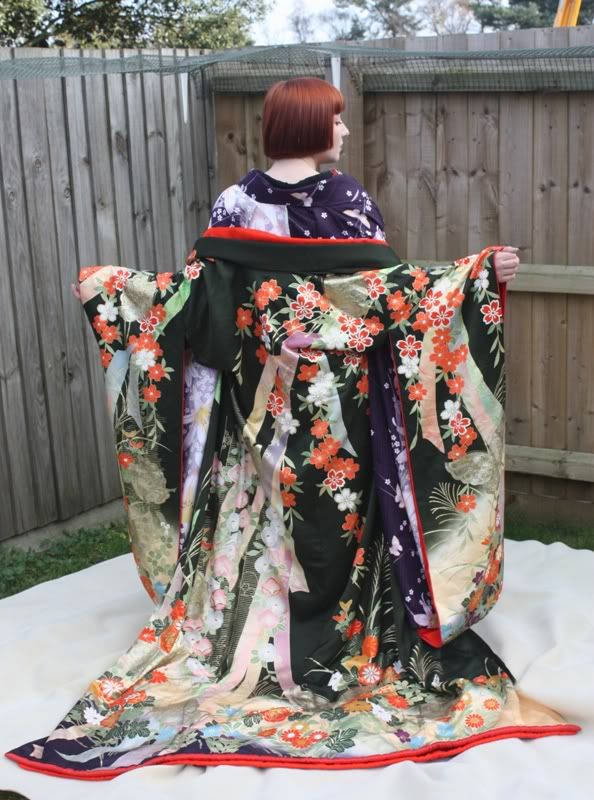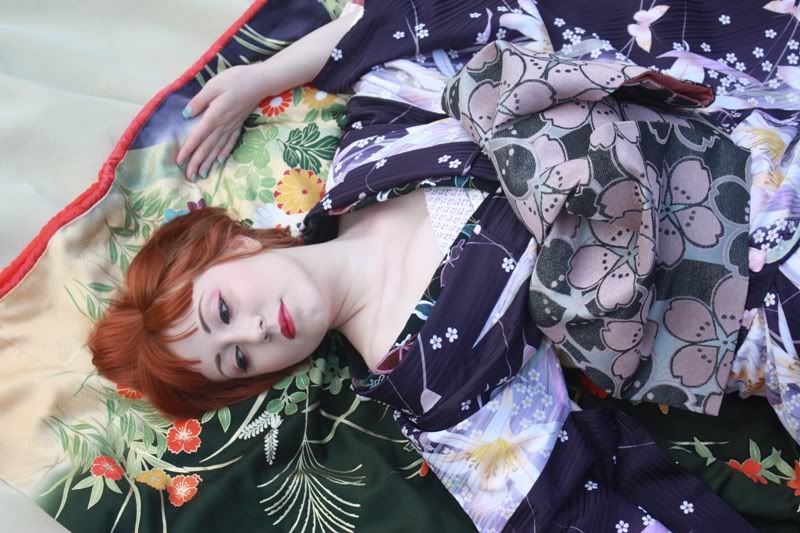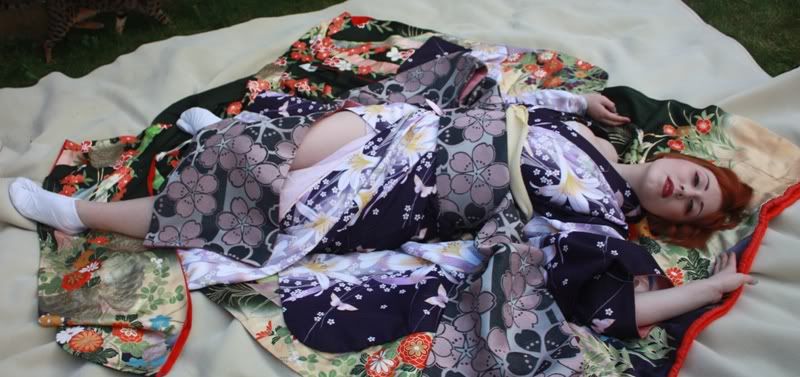 If you want to see the rest of photos, including more "scandalous" ones, you can check them out on my
blog
.
P.S. I just realized that oiran didn't wear tabi.... oh well, call it artistic liberties :coy: